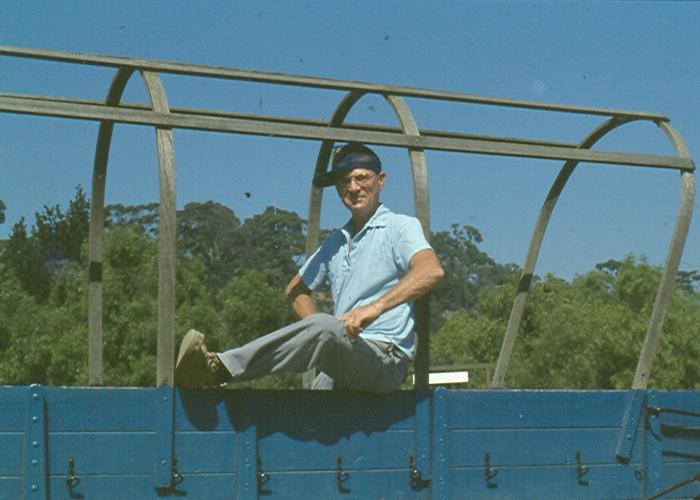 What Others Have to Say About Al
From the funeral on 28 July 2010
---
Harry Keshian
My good friend A. Anton Wiedorn
Part I
Albert Wiedorn was my oldest friend. I first met Al in September 1939 when we were in our first year in the same class at the same high school, Crosby High School in Waterbury. Al was 14 and I was 13. We knew each other thereafter for over seventy years, We thus met practically at the outset of World War II. Those were formative years framed within the aura of a whole world fearful of the approach of war, even before Pearl Harbor. Parents feared (unknown to us) knowing it would affect the fate of their growing sons. Both of us were very much aware that we might become soldiers in that war. There was a great evil in the world and all of us at that time wanted to go out and fight for our country. This atmosphere colored all of our attitudes in our adolescence.
From the very first Al and I launched into what we considered discussions but which our parents saw only as arguments. Al was also much occupied with physical fitness as he continued to be all his life. One day on a walk together Al turned to me and said out of the blue "we will see who is superior". I was completely mystified just as I was so often to be with Al's statements so many years later.
Soon afterward Al invited me to go with him to the German American Turnverein gym where he and his friends, notably I believe Ralph Mausoff another old friend of Al's, demonstrated how truly amazing gymnasts they were, competing with each other by trying to outlast each other at doing simultaneous hand stands, each at the opposite end of high parallet bars, their legs perfectly vertical and motionless for several minutes, while I stared up at them in awe. It had been made perfectly clear at that moment who was superior. In one form or another that is what Al proceeded to do with me over the next seventy plus years. And I often told Al , right up to our last conversation, those early days of special fitness were why he survived the terrible days of the Tenth Mountain Division.
But looking back I was the beneficiary of a force that was a constant challenge to keep up with, mentally as well as physically, and I owe a great debt to Al for pushing me to become better than I might have been. Al faced the circumstance of being the youngest child in his family by trying ever harder to keep up. And in the process he became a leader. I was indeed fortunate to have Al for a friend.
So much is clearer now, looking back, then it was at the time.
Part II
People often commented on Al and I argueing.  But we understood our discussions differently from the way other people saw it, as in the attached quote from James Tobin's book To Conquer the Air, about Wilbur Wright and his brother Orville: " I love to scrap with Orv". 
Al and I never missed an opportunity to mix it up in the interest of finding truth. We had one long exchange of "combustion" in ideas from 1939 till 2010 bringing our opinions from a vastly different field of interests and none of it interfered with our being friends. I miss having a good intellectual sparring partner.
I regard this all as a tribute to Al and our friendship as much as how it helps us understand how the Wright Brothers got to see things so clearly and to change the world. " They argued for sport, their voices rising, relishing the debate...whacking assertions and evidence back and forth". As a result I think both Al and I saw the world more clearly and I do think we might have changed the world.
---
Doug Robins
Nephew Douglas Robins, an attorney in Los Angeles, wants us to know that...
Al had a full life. It was full of adventures of all sorts. He was loved and admired by many and always was willing to extend a helping hand or provide a kind and understanding word to others. Perhaps the only desire which would not be fulfilled in his lifetime, was his hope that the world would learn to live in harmony and that the world powers would be able to destroy tyranny in all forms throughout the world.
---
Jawad Khan
Constructor Lieutenant Jawad Khan of the Pakistani Navy is one of Al's "grandsons from another country." When Jawad was a student at the US Naval Academy in Annapolis Maryland Al's son Paul and Paul's wife Macushla were his sponsors. Jawad spent a Christmas is Florida and saw Al many times in Maryland. Jawad is currently studying at the College of Shipbuilding Engineering at Harbin Engineering University in Heilongjiang China and he says...
It saddens me that Grandpa has left us.
I knew him as an elder family member and friend, and I have very nice memories of him. He was the kind of person that you did not have to entertain. He entertained himself and others around him. He had a poster from my area, from the time he had traveled to Kashmir. He showed me that he could stand on his head without any support from any other parts of the body, I can not do that even at this age. He made amazing posters from news cuts, AND THE LIST IS VERY LONG. It is most definitely very hard to loose such man as a father.
I can not physically be there when he is buried, but my prayers accompany him to his next destination.
I will learn more about life with time, but I do not like the part about getting older, "that people we love so much start leaving us."
---
Grand-Nephew Jessup
People from his generation I feel did a lot more things than people do today. He earned a Silver Star. The only medal higher than that is the congressional medal of honor. Pretty amazing.
---
Tea and Hidde — Al's Friends from the Netherlands
In the first place we want, you Clare, condole with the passing away of Al, your beloved husband. We don't know exactly how long you were married (it was almost 57 years), but we are quite sure you both formed a good couple.
In your life you had of course up and downs.
But also visiting together so many countries in the world, seeing the good and bad things. The question was not relevant in what countries have you been, but not been.
We remember Al as a remarkable person with very special interest in many things, sometimes a bit bizarre. A man with very strict meanings and not easy to bring to a more moderate one.
That was Al.
We have very good memories to you both and were very pleased by your invitations at your home on many special occasions. Also the New Year's eve celebrations which were very joyful.
Al will stay in our memory and we will miss him when we return once to Holmes Beach.
We hope the celebration of life on the beach on Wednesday will be a real tribute to his life. The final burial at Arlington National Cemetry will be worthy and an earned place to find his last place to rest.
We wish you Clare and all your close family strength to overcome this loss.
---
From Cindy Schade in Tegucigalpa Honduras
I wanted to tell you how sorry I am for your loss. I such wonderful memories of you two (Clare and Al), and how many grand adventures we had in that red pick-up truck, gallivanting all around Honduras.
I don't know how, or more importantly, WHY he put up with us, but he did, and will forever be remembered as a good friend and mentor. We had such a blast doing the plays, and hanging out at parties. I can see him now with that cigar.!
Anyway, may you know that many, many people share your grief, and remember him fondly.
---
From Sharon, a Friend of his daughter-in-law in Severna Park MD
I was so sorry to hear about your dear Al – I have so enjoyed knowing him through the years – his personality was authentic and honest – a man who I thought was straightforward and admirable. If I can miss him, as an occasional friend, then, I know how profoundly you will feel his leaving this realm. But I believe he has just moved on for a while – his energy is still moving around those of us who need it the most – may you hearts feel the his presence.
---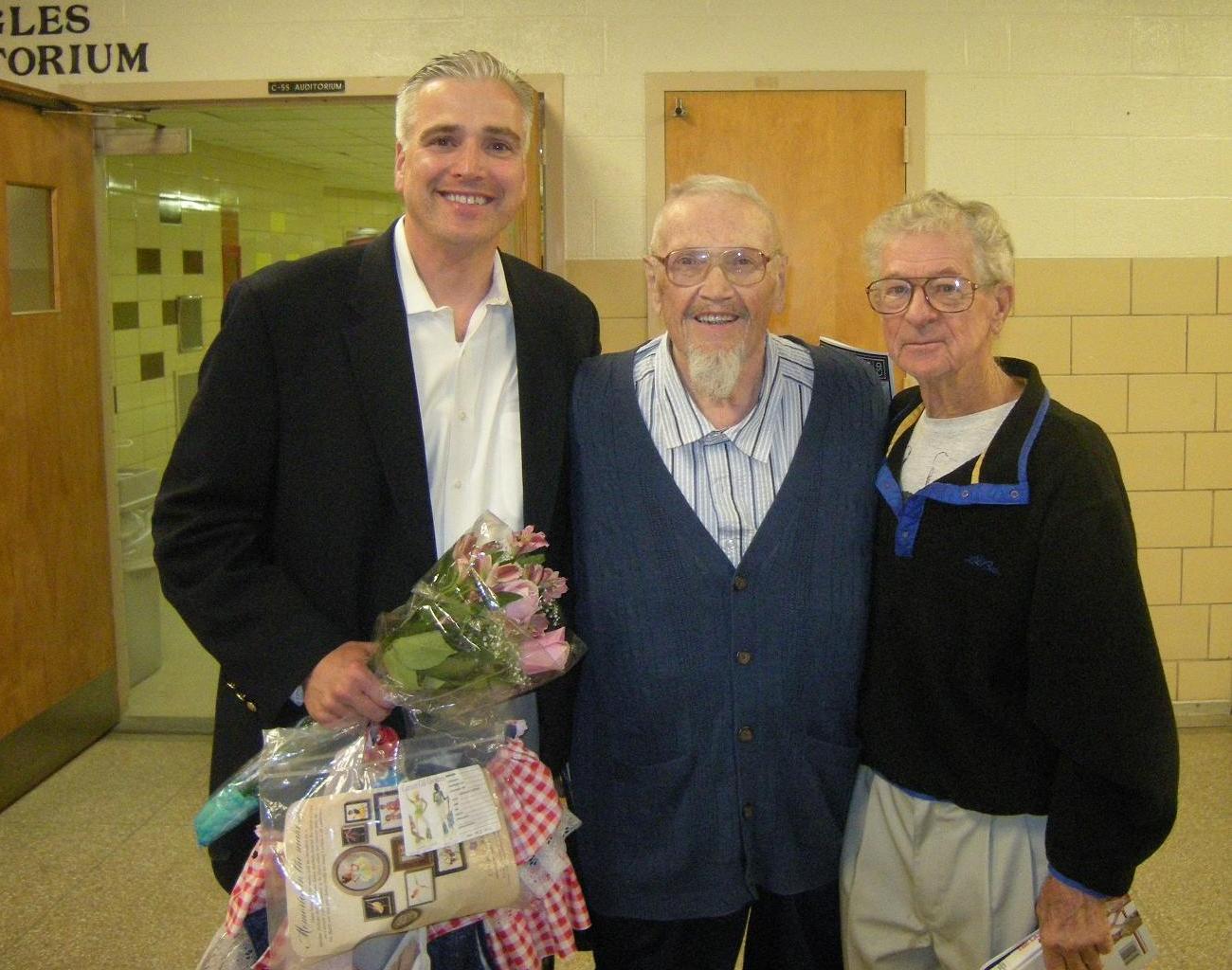 Professor Hasson
Doc Hasson and his wife Jean visited Al at Barranco Funeral Home on Saturday to visit and pray. That's Doc in the middle with Al on the right and Doc's son on the left.
---
Awards
Some people were asking me what those medals are in the shadow box. Here is the list in order of precidence.
Silver Star Medal
Bronze Star Medal
Purple Heart Medal
Army Good Conduct Medal
American Campaign Medal
European-African-Middle Eastern Campaign Medal with two bronze stars
World War II Victory Medal
World War II Army of Occupation Medal
Last updated on 30 July 2010 by P. A. Wiedorn